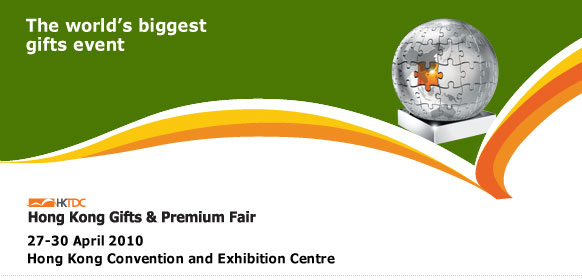 World's Largest Gifts Event Packed with New Ideas
More than 4,000 quality exhibitors from 38 countries and regions will gather at the HKTDC Hong Kong Gifts & Premium Fair 2010 - the industry's biggest sourcing event in the world, located at the downtown location of the Hong Kong Convention and Exhibition Centre.



Hot Trends
The gifts industry is heavily influenced by prevailing trends and technological developments. The show's themed zones take account of new directions to ensure the latest products and ideas are on show.



Hall of Fine Designs
This prestigious zone showcases excellence in design, with eye-catching displays from exhibitors acclaimed for their creativity and innovation. The spacious environment of the zone not only shows off the products to best effect but is also ideal for conducting serious business negotiations.



World of Gift Ideas
There's plenty of inspiration on view here, with a myriad of gift ideas for every market. The deluxe booths plus the elegant ambience of this zone reflect the quality of the suppliers and their trendy products.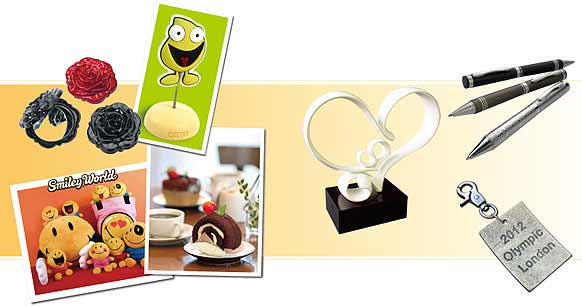 Figurines & Decorations
If you are looking to source figurines and other decorative gift items, this zone puts the spotlight on a wide variety of quality pieces from classic to contemporary.



Outdoor & Travel Goods
Plenty of choice is on offer in this zone featuring suppliers specialising in products for travel and outdoor activities, from the functional to the fun.



Wedding Favours
Looking for new ideas in the wedding-related products market? Make a date to visit this zone full of eye-catching products from quality manufacturers.




Sourcing On the Go - Tailor-made Exhibition Info On Your Mobile
Smartphone Info Site
With the HKTDC Smartphone Info Site, you can now pre-register for fairs and get your free admission badge anywhere and anytime. All information regarding HKTDC fairs, including event schedule, list of exhibitors, plus practical tips on getting around Hong Kong can be conveniently accessed.


| | | |
| --- | --- | --- |
| Download your HKTDC FAIRS | | now at: |
Mobile Info Site
Information of 30 fairs is now available at the HKTDC Mobile Info Site - hktdc.com/wap/en. Browse it and use it to get free admission badge.
Extra Sourcing Opportunity
The concurrent Hong Kong International Printing & Packaging Fair, located at AsiaWorld-Expo adjacent to Hong Kong International Airport, offers convenient related sourcing opportunities for gifts and premiums buyers. A free shuttle bus service will run between Hong Kong Convention and Exhibition Centre and AsiaWorld-Expo at regular intervals throughout each day of the shows.



Tariff Reductions Benefit China-ASEAN Trade
The concept of a China-ASEAN Free Trade Area, first raised by the former Chinese Premier Zhu Rongji during the 4th China-ASEAN "10+1" meeting, has been heralded as bringing valuable new opportunities to businesses operating throughout the China-ASEAN region.

China and ASEAN members have been working towards a tariff-free zone since July 2005. From 1 January 2010, China and six ASEAN member nations íV Brunei, Indonesia, Malaysia, the Philippines, Singapore and Thailand íV have imposed zero tariffs on most normal products, while China and the other four newer ASEAN members íV Cambodia, Laos, Myanmar and Vietnam íV will do the same in 2015.

This breaking down of tariffs will bring benefits to manufacturing, import and export businesses engaged in producing, buying and selling these many different products throughout the China-ASEAN region. This in turn is anticipated to have a positive impact on business conducted at Hong Kong Trade Development Council trade fairs, in which many Chinese mainland and ASEAN exhibitors and buyers participate.

Buyers' Comments
"This show is very well organised and you can find innovative products here. I've been coming to this event for 10 years - of the five or six suppliers we use regularly in the Chinese mainland, we found three of them at this show and developed long-term relationships with them."
Muhammed Noufel, CEO & Managing Partner, Al Yasat Gifts & Hotel Supplies, UAE

"The fair is very good and well organised íV I have come here with a view to bringing a delegation of our members next year. Here they can find many new ideas. In addition to visiting as buyers, some of our members may wish to consider exhibiting, too. Spanish gift suppliers can look to other markets such as the Chinese mainland, and this fair in Hong Kong is the place to get a start for that."
Elena Hernłhndez Tormo, Assistant Manager, Promotion Department, Gift Manufacturers and Wholesalers' Association, Spain



Today's Action
Pre-register on or before 5 April for buyers from outside Hong Kong and 15 April for local buyers íV to receive a FREE admission badge by mail.



Exclusive Travel Incentives for Trade Buyers
The HKTDC offers a variety of incentive programmes for trade buyers to the Fair that involves exclusively discounted hotel rates and airfares. For further information, please contact HKTDC office nearest to you.



Special Airfare
Cathay Pacific Airways, together with sister airline Dragonair, offer you and your travel companions exclusive airfares in all classes. To take advantage of this offer, please click http://events.cathaypacific.com and input the event access code MICE301 to avail of special fares for you.



Do You Need a Visa to Enter Hong Kong?
Please click here to find out the requirements and guidelines laid down by the Immigration Department of the Hong Kong Special Administrative Region. Should you require an invitation letter from the HKTDC, please send your request to us at least two months (eight weeks) before the fair begins.



hktdc.com Free Sourcing Service
Now you can locate the right products you need by getting a list of relevant exhibitors with booth numbers and product photos at the fair. Look for this friendly sign at the fairground.





Enquiry Contact
| | |
| --- | --- |
| Customer Service Line | (852) 1830 668 |
| Ms Prudence Lee | (852) 2240 4583 |
| Ms Wing Wai | (852) 2240 4150 |

Rebecca Tse
Manager, Marketing Communications
Exhibitions Department